Luxury pools are becoming increasingly popular for those looking to add a touch of opulence to their outdoor living space. In 2023, luxury pool trends will be all about creating a luxurious and sophisticated atmosphere with high-end design features. The following are some of the must-have luxury pool trends in 2023:
Sustainability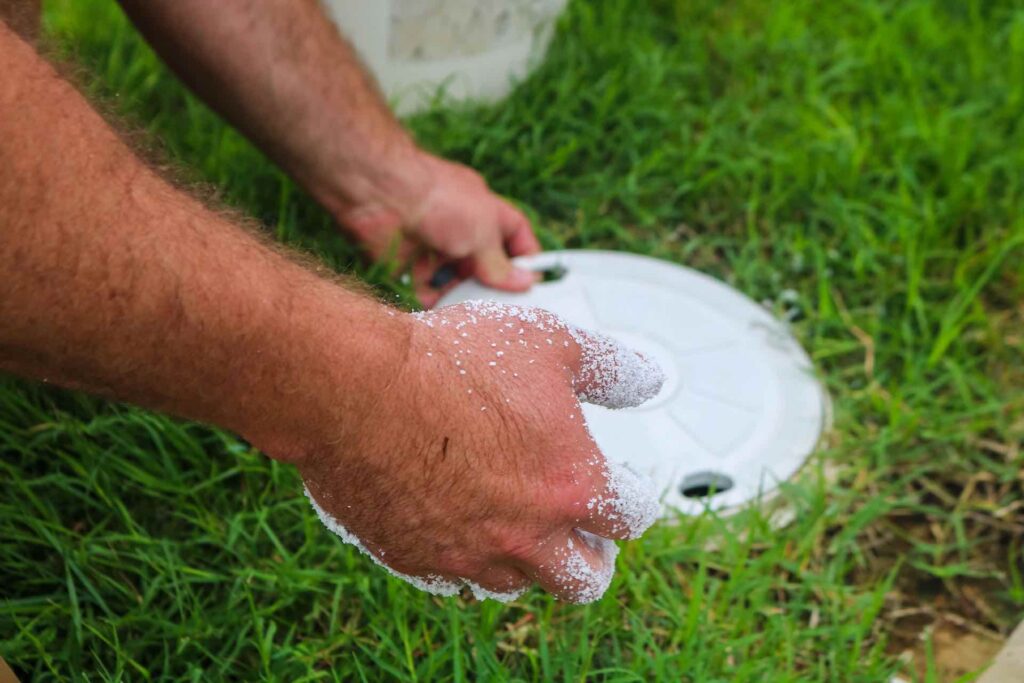 There is a growing demand among customers for locally sourced materials that can minimize fuel and energy consumption during delivery, thus reducing the carbon footprint. In addition, with the goal of sustainability, customers are supporting local businesses because local vendors can pivot and adapt to timeline or material changes quicker than a global supplier and still provide the same quality pool supplies.
Outsourced Pool Maintenance Experts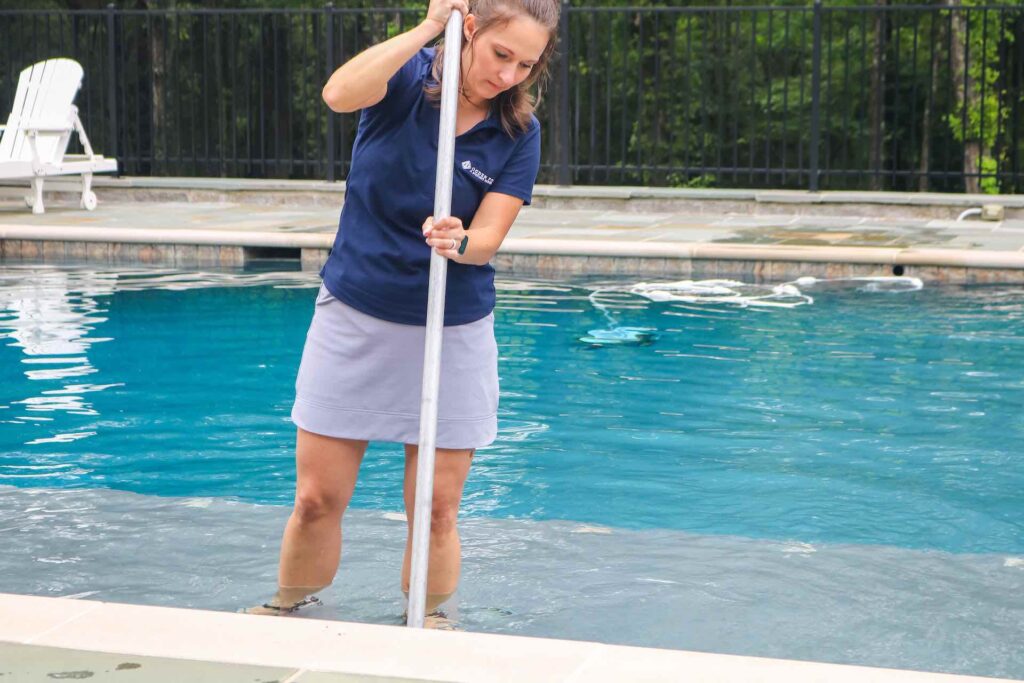 Today, luxury pool owners value their time more than ever before. They want the time around their pools to be spent enjoying their luxury pool rather than working on it. For this reason, more and more pool homeowners are looking to the pool maintenance experts in their local areas to clean their pools, maintain their pools' chemicals, and to help them on a consistent pool maintenance schedule.
Master Craftsmanship with Pool Remodeling
In 2023, luxury is expressed in a subtle and natural manner, without the need for flashy displays. Instead simple craftsmanship with intricate details will be a priority for those looking for a beautiful pool remodel or renovation. Using artisan tiles, water features, and planters in a luxury pool area allows for self-expression and showcases the personality of the homeowner. Handcrafted and artisan features create beautiful textures and depths of color not seen on mass produced products.
Multipurpose Outdoor Living Spaces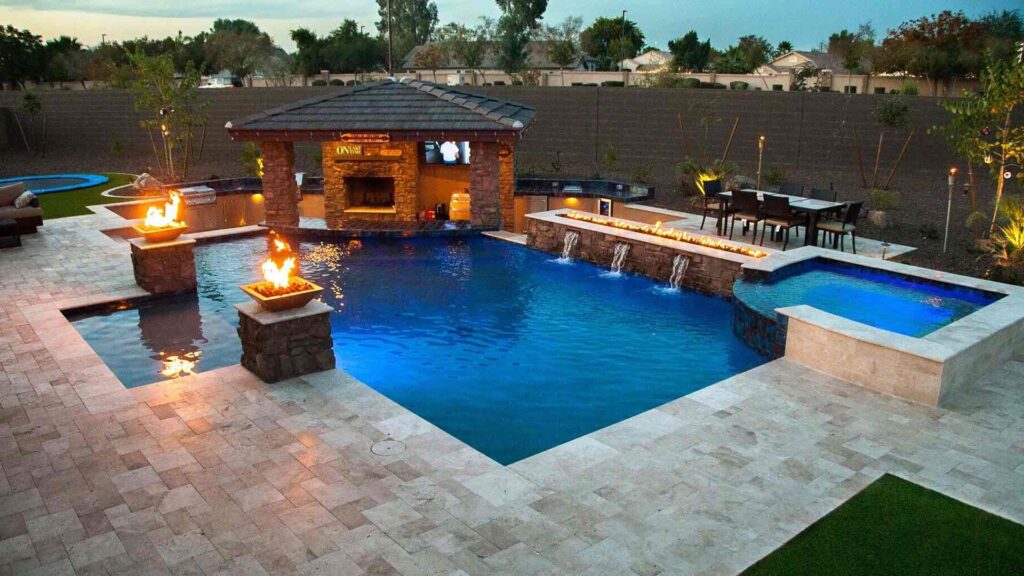 One thing rings true now just a few years after COVID – Everyone is ready to do life together again. Pools are often associated with group activities and socializing. This is particularly true of outdoor spaces around swimming pools for families with children. In 2023, more and more people are looking for pools and outdoor living areas that combine dining, play, and entertaining in one space. Need relaxation? Create an oasis for yourself with a ledge lounger and umbrella to find quiet. Want exercise? Swim Jets make any size pool multifunctional for fitness and recreation. Want to level up that open feel? Trade out those windows for hinge free sliding doors to completely open your living room up to the patio!
Perimeter and Edges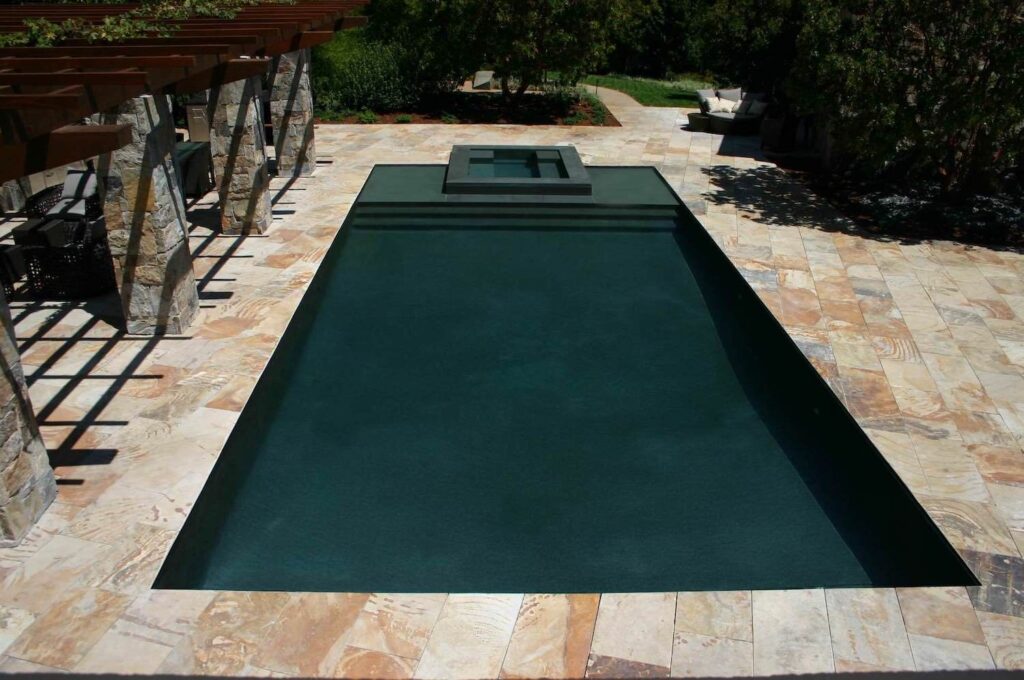 In 2023, perimeter edge pools are expected to become increasingly popular as homeowners begin to focus more on the aesthetics of their outdoor living spaces. Perimeter edge pools provide a sleek, modern look that can help bring a sense of stillness and reflection to a backyard. The lack of traditional edges and straight lines provides an interesting visual contrast from regular shaped pools while also being easier to maintain than other more traditional gunite or concrete pools.
Infinity Everything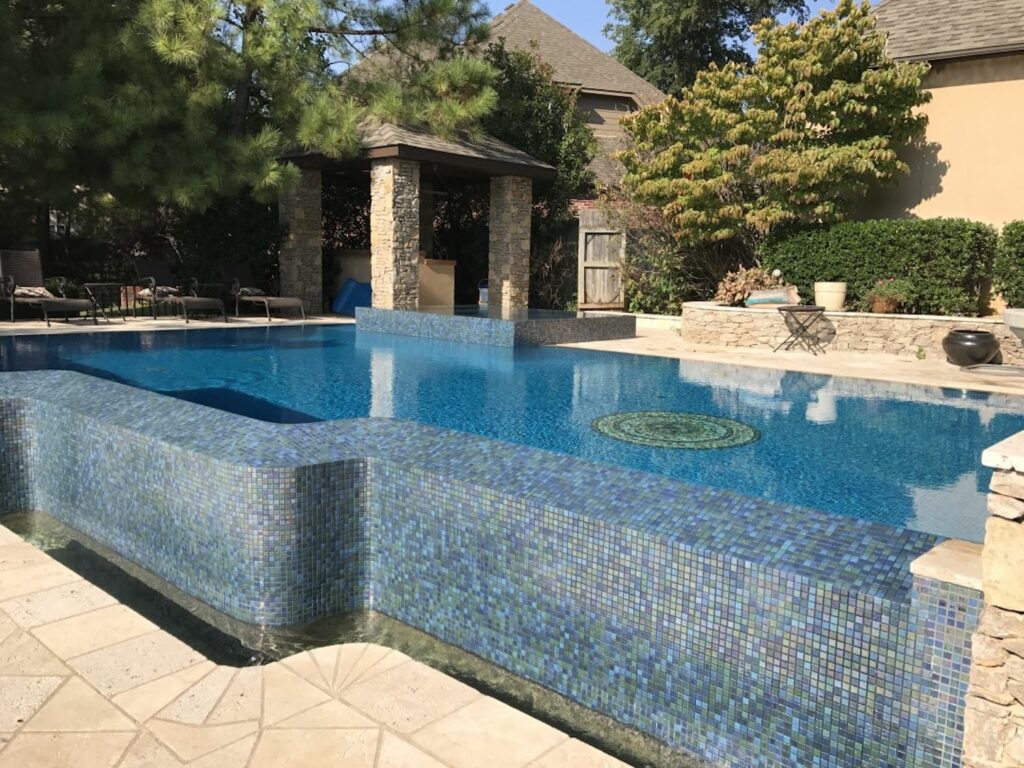 Infinity pools are one of the hottest trends in pool design for 2023. This type of pool creates a stunning visual effect, with its edge seemingly extending out into infinity. These pools are often placed on elevated ground and incorporate landscaping to make them blend seamlessly into their surroundings, with the horizon creating an illusion of water stretching endlessly ahead. Infinity pools also have the added benefit of allowing for a more creative design.
Global Inspired Pool Design
Create a vacation experience in your own backyard. Creating a destination atmosphere can be achieved through the use of Moroccan lanterns, Persian rugs, or new architectural features. Even if you prefer a modern style, use that found object to add a layer to create that vacation vibe.
Sustainable Wood Decks and LED Lighting Around the Pool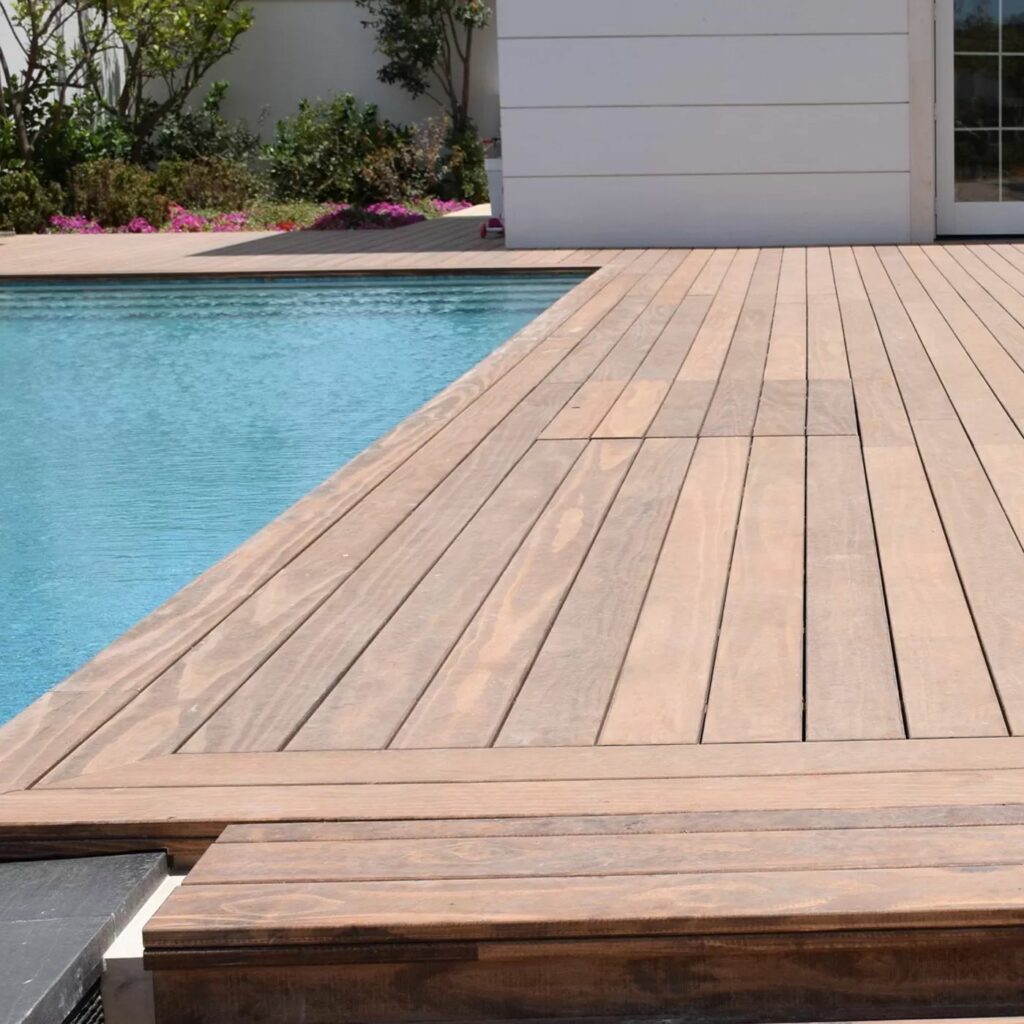 Select sustainably sourced wood from within the United States. Using tropical woods for construction can pose challenges, as sourcing and harvesting some of them may be illegal or improperly managed in some forests. Consider seeking out sustainability certifications like PEFC and FSC for lighting. Modern lighting technology has expanded beyond just underwater pool lighting. LED lights that can be controlled by your phone let you change the mood of your backyard easily. Kids having a dance party? Have the colors rotate. Adult happy hour, select soft white. The installation of lights on stairs and walkways increases accessibility and safety in yard areas during nighttime, allowing for extended use of the space.
Wellness Swimming & Exercise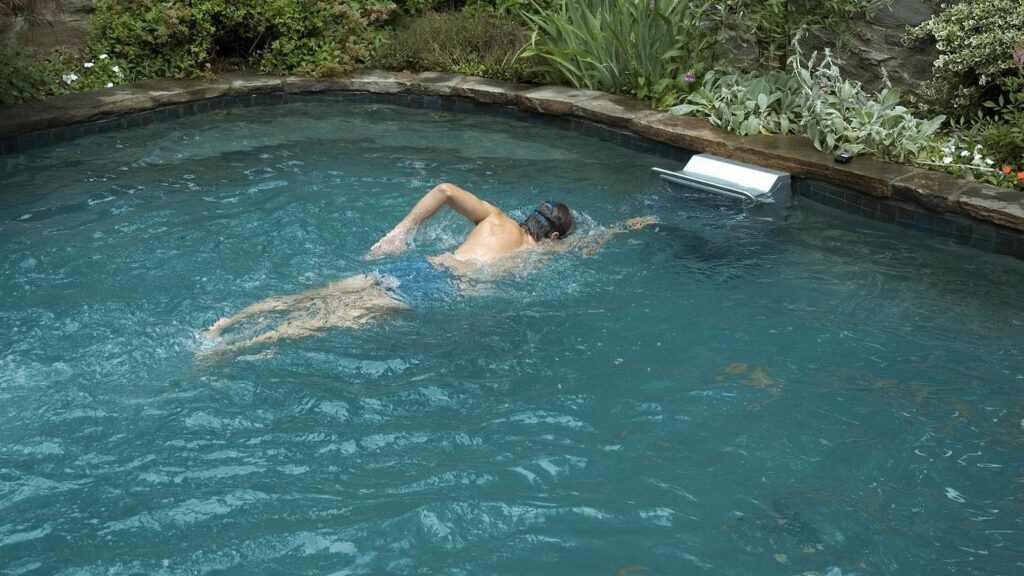 In 2023, we're seeing an increase in the number of people incorporating water into their workout routines. This trend has been steadily increasing in popularity over the past few years as homeowners look for ways to get fit and have fun at the same time. One of the most popular ways to do this is by installing swim jets in a pool or swim spa. These jets provide an adjustable current of water flow for the homeowner. Swim jets are multifunctional for fitness and recreation.
Modern Water Features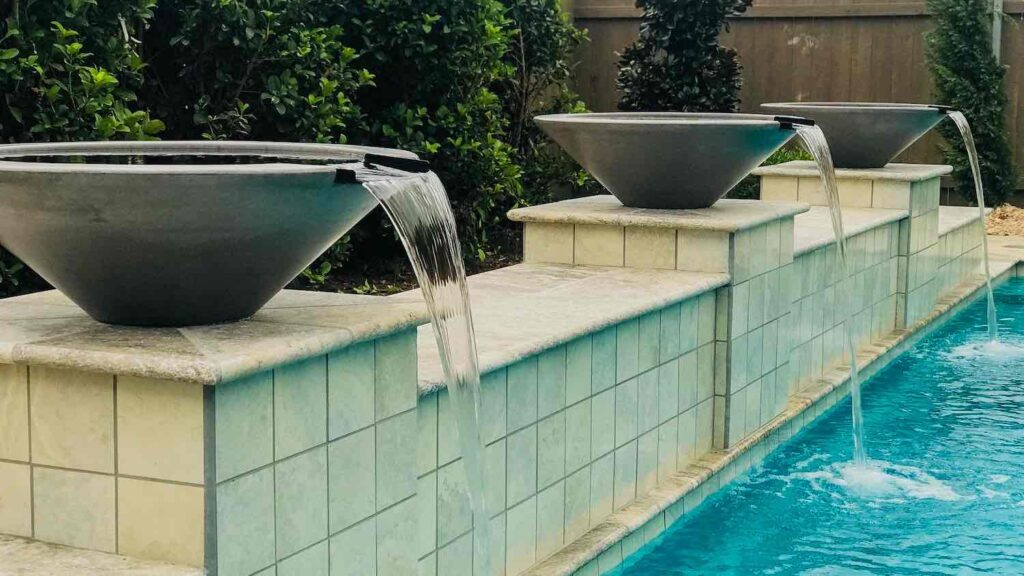 Modern water features are on the rise in 2023 because they can turn any outdoor space into an oasis. These popular water feature will not only add visual appeal to your backyard, but it can also create a tranquil atmosphere for relaxation.
The most popular water features include infinity pools, spillovers, rain curtain walls, and reflective pools. Contemporary interpretations of spillover water features include hidden grottos surrounded by flowing water, water cascading through natural stone, and multi-tier spillovers.