Introduction: Why Pool Remodeling is Important for Your Backyard Oasis
Having a pool in your backyard is a dream come true for many homeowners. It provides a place to relax, cool off, and enjoy quality time with family and friends. However, over time, your pool may start to show signs of wear and tear, and its functionality and aesthetic appeal may begin to decline. This is where pool remodeling and pool renovation comes in.
Pool remodeling is the process of updating and renovating your pool to improve its functionality, safety, and overall appearance. It involves assessing the condition of your pool, identifying any issues that need to be addressed, and designing a plan to transform your pool into a stunning oasis that meets your needs and preferences.
Assessing Your Pool: Identifying the Need for Pool Remodeling
Before jumping into a pool remodeling project, it's important to assess the current condition of your pool and identify any signs that indicate the need for remodeling. Some common signs include cracks in the pool's surface, leaks, outdated or malfunctioning equipment, and worn-out or damaged tiles.
Addressing these issues promptly is crucial to prevent further damage and ensure the safety of those using the pool. Cracks in the pool's surface can lead to leaks and structural problems if left untreated. Outdated or malfunctioning equipment can affect the pool's functionality and energy efficiency. Worn-out or damaged tiles can not only be unsightly but also pose a safety hazard.

Designing Your Dream Pool: Choosing the Right Materials and Features
Once you have assessed the condition of your pool and identified the issues that need to be addressed, it's time to start designing your dream pool. When choosing materials and features for your pool remodeling project, there are several factors to consider.
1. Durability and Maintenance Requirements of Different Materials.
Firstly, consider the durability, quality, and maintenance requirements of different materials. A higher quality and beautiful look will allow you to upgrade to a stone or pebble finish.
2. Special Features Such As Water, Fire, Jets, Lighting, and Automation
Secondly, consider the features you want to incorporate into your pool design. Popular pool design trends include waterfalls, fire features, swim-up bars, and built-in seating areas. Think about how you plan to use your pool and what features would enhance your experience.
3. Design for Your Lifestyle and Preferences
Lastly, make sure to create a pool design that suits your lifestyle and preferences. If you have children, consider adding safety features like a fence or pool cover. If you enjoy entertaining, think about incorporating a spacious deck or patio area for lounging and dining.
Hire a Professional: Find the Right Pool Remodeling Contractor
1. Use A Licensed Contractor for Pool Remodeling
Pool remodeling is a complex and specialized task that requires the expertise of a professional contractor like Ogden Pools. When searching for a pool remodeling contractor, it's important to do your research and find a reputable and experienced professional. Most pool builders are NOT licensed contractors because it's not required by law. However, Ogden Pools is a licensed contractor which means we are backed by the proper licenses and insurance you need from a contractor.
2. Ask the Right Questions
Before hiring a contractor, make sure to ask them a few important questions. Inquire about their experience and qualifications, ask for references from previous clients, and request to see examples of their previous work. It's also important to discuss the timeline and budget for your project to ensure that both parties are on the same page. At Ogden Pools, we welcome these questions and encourage you to ask our team.
Working with a professional pool remodeling contractor is essential for the success of your project. We have the knowledge, skills, and equipment necessary to complete the job efficiently and to a high standard. And, we can also provide you with valuable advice and guidance throughout the whole pool remodeling process.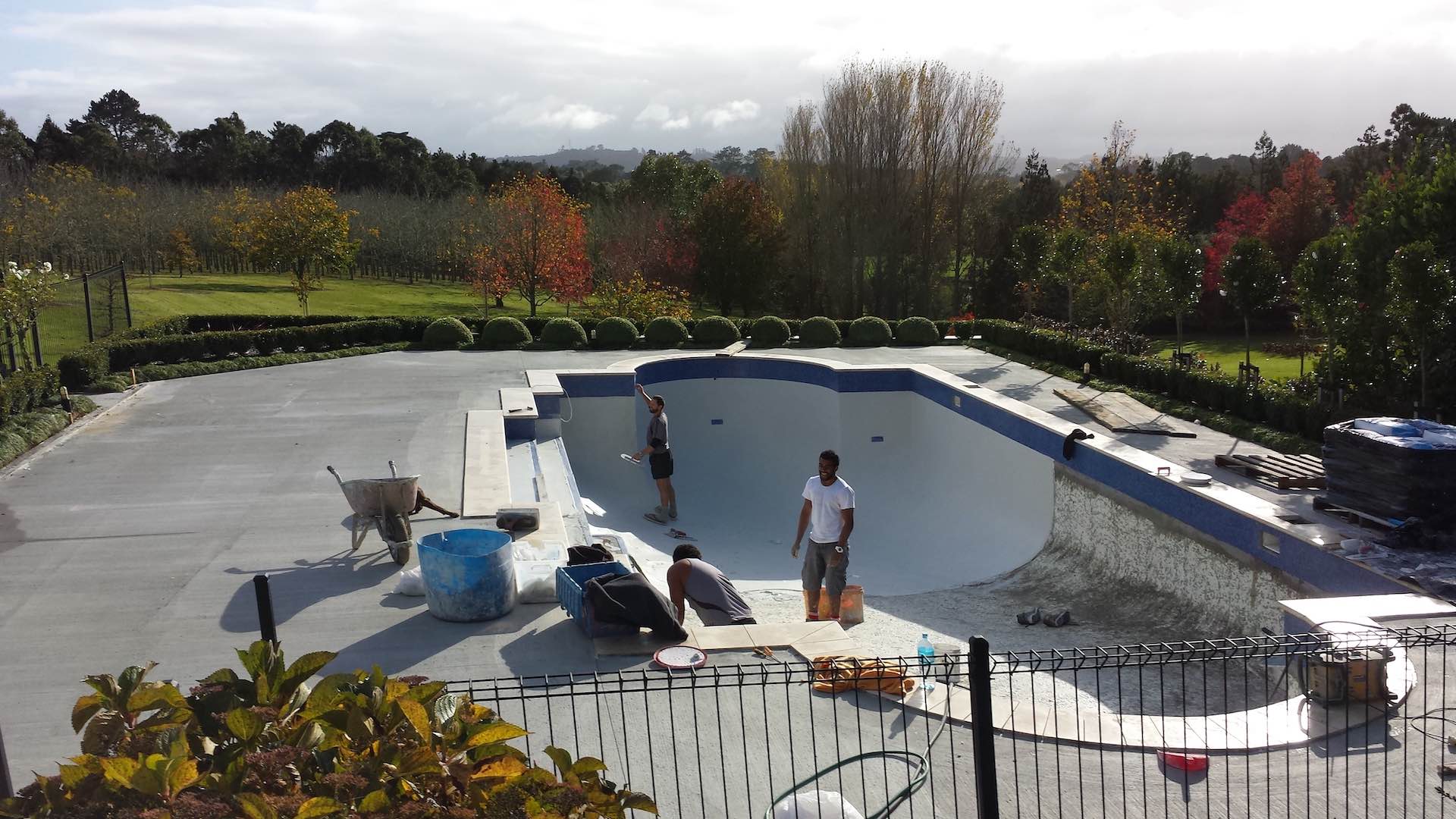 Cost Considerations: Prepare A Realistic Budget for Your Pool Remodel
Pool remodeling projects can vary greatly in cost depending on the extent of the renovations and the materials and features chosen. It's important to consider all the factors that can affect the cost of your project and create a budget accordingly.
Some factors that can affect the cost of pool remodeling include the size of the pool, the materials used, the complexity of the design, and any additional features or upgrades. It's also important to factor in the cost of permits, labor, and any unforeseen issues that may arise during the remodeling process.
Maintaining Your Newly Remodeled Pool: Tips for Long-Term Care and Upkeep
Once your pool remodeling project is complete, it's important to establish a regular weekly pool maintenance schedule to keep your pool looking and functioning like new. Regular maintenance is essential to prevent issues such as algae growth, equipment malfunctions, and water chemistry imbalances.
PRO TIP: Ogden Pools offers regular pool maintenance services with 4 levels you can choose from which a couple of options that even include all of your pool chemicals.
We always suggest you hire a professional to perform the regular maintenance your pool needs. It will save you money in the long run and more importantly, it will preserve your sanity and you'll enjoy your swimming pool much more. But, if you choose to DIY your pool maintenance, here are a few tips.
6 Important Tips for Maintaining Your Newly Remodeled Pool:
1. Regularly clean and skim the pool to remove debris twice a week.
2. Test your pools chemical balance at least twice a week.
3. Balance the water chemistry regularly to ensure it is safe and comfortable for swimming.
4. Clean the pool filters monthly to maintain proper filtration.
5. Inspect and maintain the pool equipment, such as pumps and heaters, to ensure they are functioning properly.
6. Keep an eye out for any signs of damage or wear and address them promptly.
Putting off proper pool maintenance can cost you a lot of money down the road that could've been prevented.
Even if you choose to maintain the pool yourself on a daily and weekly basis, you definitely need to schedule monthly or quarterly inspections and maintenance visits by one of our pool technicians to ensure that your pool is in optimal condition. A professional can identify any potential issues early on and provide the necessary repairs or maintenance. More importantly, we can help you extend the life of your pool and its equipment as well prevent costly repairs down the road.
Conclusion: Revamp Your Backyard Oasis with Pool Remodeling
Pool remodeling is an important step in maintaining the functionality and aesthetic appeal of your backyard. By assessing the condition of your pool, designing a plan that suits your needs and preferences, hiring a professional contractor, budgeting for the project, and establishing a regular maintenance routine, you can revamp your pool and create a stunning oasis that you can enjoy for years to come.
So why wait? Start planning your pool remodeling project today and transform your backyard into a paradise.