Adding a swimming pool to your backyard is a great investment that you'll enjoy for years to come with the proper weekly pool maintenance.
To really enjoy your swimming pool you expect to swim anytime you want without the hassle of learning how to properly maintain your pool. However, many Memphis area pool owners take the DIY approach because they don't understand what it means to adequately maintain and care for the pool and the equipment. They quickly realize that pool care is much more than getting the leaves out of the water or adding some chlorine every once in a while.
The truth is your swimming pool requires a lot of care and maintenance year round. Without the right pool care from an expert, that beautiful clear water will quickly turn cloudy and even dangerous to swim in. And, before you realize it, the lack of proper care will lead to expensive repairs and unexpected downtime where your pool can't be used.
Here are the seven primary reasons over 200 Memphis homeowners have chosen to use Ogden Pools for their weekly pool maintenance.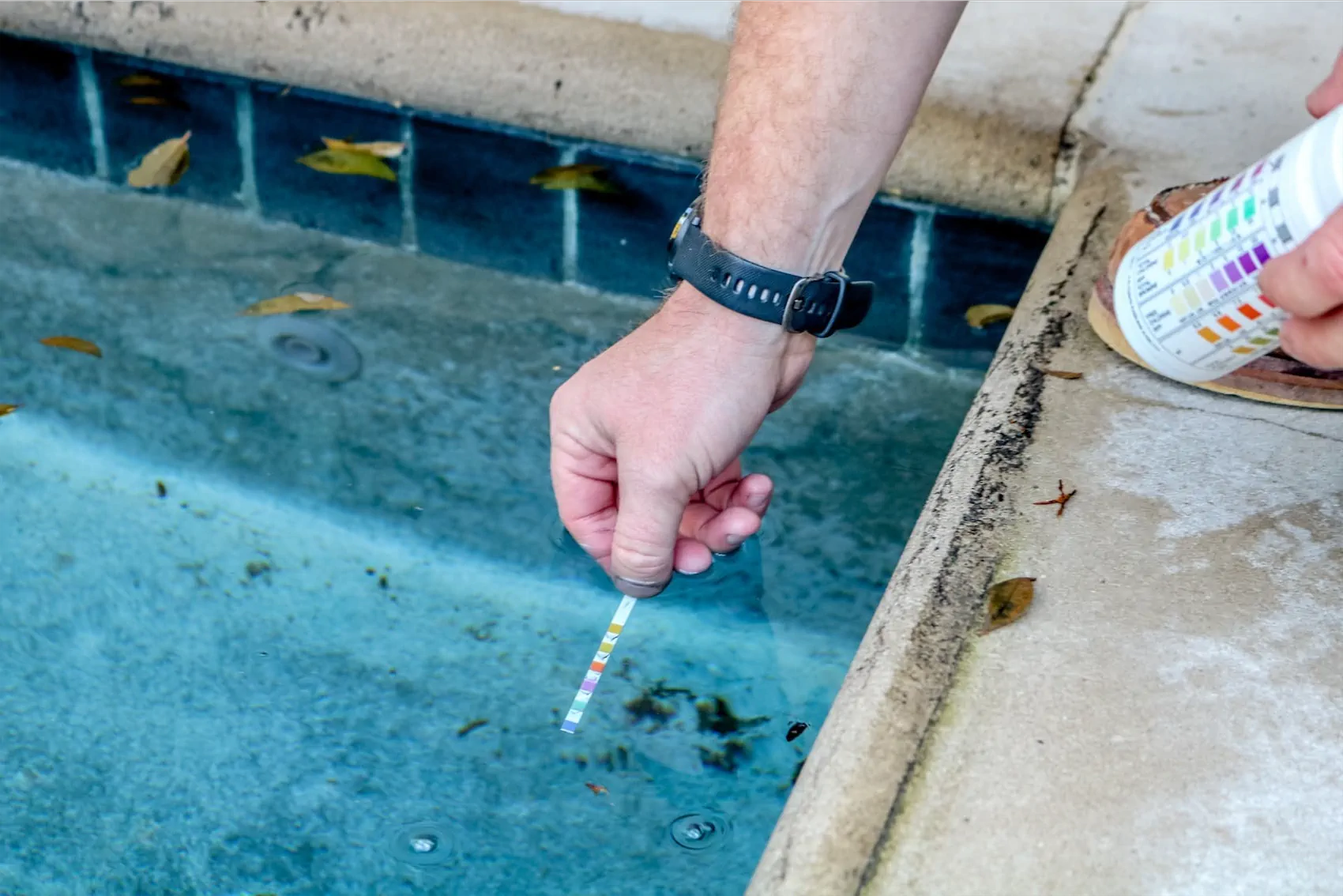 1. Problems with pool water chemistry are difficult to detect and fix.
Your pool water could be harboring harmful chemicals or dangerous mineral imbalances even when everything looks fine. Pool care professionals know what to look for and how to detect small problems before they turn into big ones.
Read more about the alkalinity effect on your swimming pool.
2. Improper care leads to costly repairs to your pool's plumbing and expensive filter replacement.
Your swimming pool relies on a complex series of plumbing and filters that are designed to keep that water sparkling clean. If small problems go unnoticed or unaddressed, it could cause corrosion in the valves and fixtures and clog up the filters. This can get expensive fast.
3. Pool chemicals can be dangerous if not used properly.
Even when pool chemicals are stored properly and there are no kids or animals around, those pool chemicals could still be dangerous. A simple spill could release toxic chlorine gas into the air – not something you want to be breathing into your unprotected lungs.
4. Improper storage of pool chemicals is dangerous.
If you have children or pets, improper storage of pool chemicals can create a real hazard for their safety. Many of those pool chemicals are corrosive, and some are even poisonous – one more reason to leave them to the pros.
5. Proper weekly pool maintenance is really time-consuming.
You did not install your swimming pool so you could spend your time changing filters, cleaning vacuum bags, vacuuming the surface, blowing the deck, tightening valves, and constantly balancing chemicals. You put your pool in the ground because you wanted to enjoy your backyard and entertain your friends and family. When you let a professional handle the weekly pool maintenance, you'll can spend less time worrying about your pool and more time enjoying it.
Learn more about our Weekly Pool Maintenance Program
6. Proper pool care and maintenance will extend the life of your pool.
Installing a pool is not a small expense, and repairing it could be extremely costly. Professional maintenance can actually extend the life of your pool, saving you money in the process.
7. Maintaining your pool during the off-season is critical.
Opening and closing your pool properly is critical. A common misconception of pools owners is that the pool should be covered, winterized, and closed during the fall and winter seasons. However, your pools surface and equipment will last longer if you keep the pool open and maintain the water chemistry year round, even in the colder months. And, if your pool is equipped with a heating system you have the option and flexibility to use your pool year round.
Final Thoughts:
Bottom line is most luxury gunite pool owners in Memphis want peace of mind and no hassle when it comes to enjoying their pools. Not only do the pros know how to maintain your pool the right way, they also know what is best for your pool to extend its lifespan.
Like you, they added a pool to their backyard so they can enjoy it; only to realize that caring for their swimming pool matters more than they realized. And, whether they need help preventing contaminants from turning their swimming pool into a dangerous experience or they need major pool system repairs, they all learned and appreciated that it just made sense to leave their pool maintenance to our team of professionals.