Thank you to both Collierville Living Magazine and East Memphis Living Magazine for the great story on Ogden Pools.
A Legacy of Excellence
Ogden Pools has a rich legacy that transcends generations. It's not just a family-owned business; it's a testament to hard work, diligence, excellence, and faith.
The Origins and Evolution
The story began in the 1950s with Raymond Ogden, a brick mason who helped build the pool at the first Holiday Inn in Memphis. His son, Stan Ogden, returned home from the Korean War in 1957 and joined his father in the construction business. A few years later, they ventured into the pool industry, and Ogden Pools was later created on January 1, 1980 by Stan Ogden. Since then, the company has evolved and grown, specializing in gunite pools and becoming a beacon of innovation and quality in the industry. The legacy has been passed down through generations, with Stan's son, Glen, taking the helm and later sharing ownership with his son, Josh.
Family at the Heart
The family has always been the heart of Ogden Pools. From the patriarchs, Raymond and Stan, to Stan's wife, Carolyn, their children Glen and Phyllis, down to Phyllis' son-in-law, Imran, Josh's wife, Desireé, and his oldest daughter, Haleigh, who joined the business recently, each family member has contributed uniquely to the success and growth of the company. It's not just about family; it's about treating employees as family. Ogden Pools looks for team members who embody integrity, honor, and diligence. The company states that they look for "lifers that embody the same desire to serve like the Ogden family."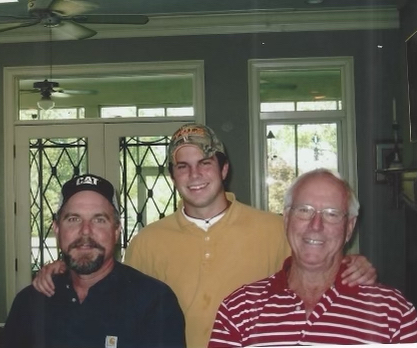 Serving the Community
Ogden Pools is not just in the business of building pools; they are in the business of building relationships. Through their gunite pool construction and service teams, they enable Memphis area homeowners to enjoy a beautiful space free of worry or hassle. They handle everything from gunite pool installation to weekly maintenance, serving over 200 clients in the tri-state area.
A Philosophy of Excellence
What sets Ogden Pools apart is their relentless pursuit of excellence. They demand perfection in everything they do, from underground plumbing to picking up pool toys. Their philosophy is rooted in Colossians 3:23, which emphasizes working from the heart, something done for the Lord and not for people.
A Special Family Moment
The heart and soul of Ogden Pools can be captured in a touching family story. When Josh's youngest daughter, Ali, decided to be baptized, she wanted it in her own pool – a pool that didn't exist. One year later, she was baptized in her very own Ogden Pool designed with the help of her great granddad, Stan, and built by her granddad, Glen, dad, Josh, and Uncle Imran, surrounded by several generations of Ogdens. Josh reflects on that particular day, "It was the day that I realized that my grandfather's dreams had come true as his entire family was surrounded in faith and in love, and it was the day that I realized that his dream had become mine for the next Ogden generations."
A Message to the Readers
Ogden Pools is a legacy, excellence, community, and faith story. It is a testament to the transformative power of family values and dedication. They don't just build pools; they create memories, relationships, and dreams. They say, "We don't take lightly that our clients entrust us with their hard-earned dollars to provide a backyard experience for their family." In the world of Ogden Pools, every client is family, every pool a labor of love, and every splash a celebration of life. The Ogden family invites you to be a part of their story, and they will become part of yours. To experience the Ogden difference, contact them at (901) 794-4764.